I traveled to Maple Grove on Sunday afternoon to take pictures of little Paige. What a beauty! She has these big eyes and cute, round face. Paige's mother, Amy, found me through her fellow daycare worker, Bobbi. Bobbi has a daughter named Holly Jo, who's senior pictures I took just a few months ago. Still with me?? 🙂
The really neat thing about this session were the family heirlooms I had available to me. Amy had a bassinet that had been in her husband's family for years, a hand-stitched quilt that has been in the family a long, long time, and a baptismal gown that every girl in her mother's family has been baptized in over the past 41 years! The bonnet didn't fit, but we got the gown on just fine. I love family tradition! So, that's all the fun stuff in the pictures below!
She was actually not a happy camper for most of the session, however she did like being on her stomach for this one shot. I got a couple of smiles out of her!!

Ok, I guess we are all done with that position. I love posting unhappy pictures of babies, because it is still one of those precious moments!
During the middle of the session, she discovered her hand. I swear, she wouldn't stop looking at it!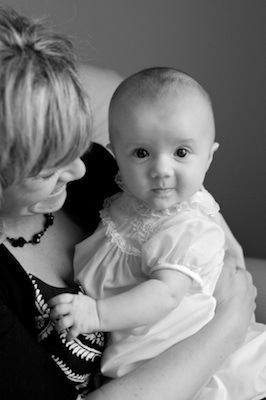 Patrick (Dad), Amy (Mom), & Paige.  She was very sleepy at this point. 🙂