If you remember a posting a few weeks ago of the pregnant belly, that was baby Grady in there!  Well, 2 weeks ago, he finally made his appearance.  Now, it was time to get some pictures of the little guy.  Shelly had some ideas in mind for the pictures she wanted.  It's sometimes hard to follow a client's ideas, while also maintaining your style.  I think we ended up with some fantastic images, while also getting those special ones Shelly wanted.  We were also able to get a few shots with the older 3 children and the entire family.
Grady wasn't such a fan of being naked or having the lights flash in his eyes.  After we got him in some clothes on, he was much more relaxed, even with the flash in his eyes!
This picture wasn't originally set-up.  Shelly was simply holding his hands down so that we could see his face.  I thought it made a great shot.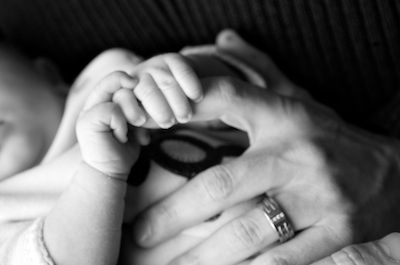 This was one of Shelly's ideas that she had seen before.  It will be going on her birth announcement with some clever saying about adding another pair of feet to the family…. I wish I could remember it, because it certainly was clever! 🙂