Well, it's been a week since my last posting.  It will be a little bit busier this week, though!  I have a family session & a senior session tonight, so stay tuned for those.
Aaron & Becky tied the knot this past Saturday in Plymouth.  What a gorgeous day!  They couldn't have asked for better weather for the beginning of April.  Even though we didn't get a chance to head outside for some pictures, the guests were able to thoroughly enjoy the weather waiting for them to board the bus and during the cocktail hour.  Becky, an estate and family law attorney, & Aaron, an engineer, met 3 years ago at her sister's bachelorette party.  They were originally referred to me from Julie & Nick, who were married last September.  However, when we first met during the initial meeting, we discovered how small of a world this is!  Apparently, Aaron grew up right next door to my grandparents in Albertville and their parents are still good friends with them today!  Crazy, huh?
Back to the wedding, though… 🙂  This group was a blast and knew how to make the wedding a party.  With 7 bridesmaids & 7 groomsmen, how can it NOT be a party?!  Enjoy a sampling of their pictures below and feel free to leave any comments for the bride & groom!
Love this shot… when the bride is getting ready and the angle suits it, I like to include the clock into my pictures.  It's a nice way to look back and have some real documentation as to the timing of the day.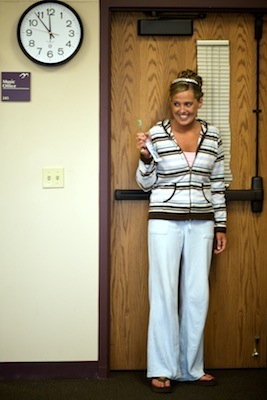 I had a little bit of fun with selective coloring with this picture.  I tend not to use it too much, because it can look "overdone".  However, when used properly, it looks awesome!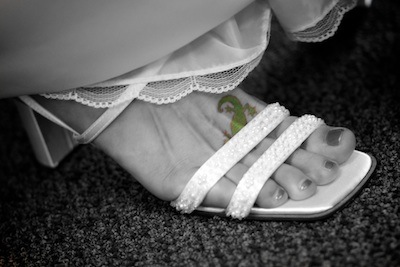 Their first meeting…
I thought this was priceless!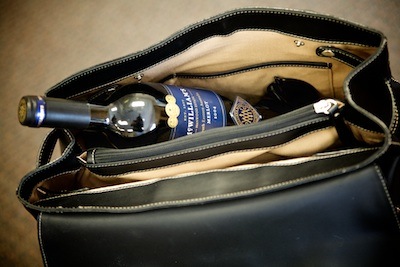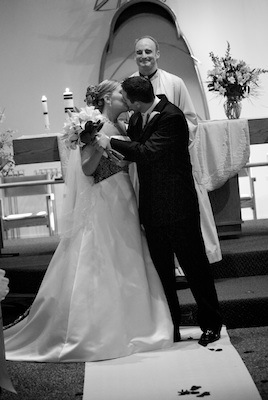 I had to post a couple of pictures of them leaving the church, because it was just so darn cool!
In order to hold their big wedding party, they needed to go in style 🙂
This was actually a very spontaneous moment.  I thought that it was a really neat picture to see all of the guys walking with just the bride.  Well, she decided to do some posing and have some laughs with them.  Surprisingly, I got some really fun pictures out of it!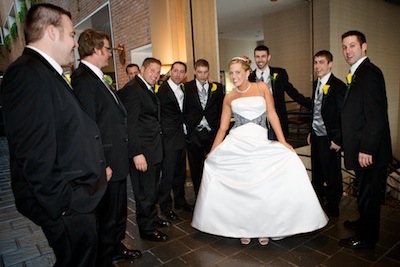 All of the wedding party did something silly during the grand march.  These two were my favorites.
Here's to you, Aaron & Becky!  Hope you have a blast on your 9-day Caribbean Cruise!