Ok, so I wasn't the official photographer for their wedding on Sunday, May 27th.  I was actually in this wedding!  Their hired photographer left right before dinner, so I was the unofficial photographer for the rest of the night.  Aaron and Tanya are waiting to go on a honeymoon until they have the time and money to take a nice long one in Europe (or some place warm).  Aaron actually works with my husband, and Tanya has about 1 year left of chiropractor school!  They had a beautiful day, surrounded by their family and friends, and the weather wasn't too bad either!  Here are some of my shots that I found time to take. 🙂
Her sister laughing during a part of her toast to the bride & groom.
Ok, so I couldn't resist posting a picture of my son.  Since both myself & my husband were in the wedding, my parents watched my son and then brought him to the reception!  He was having alot of fun with the spoon 🙂
The couple's first dance as husband & wife.
The groom is Jewish, so they incorporated Jewish traditions into their ceremony and reception.  As you can tell from the pictures, they hoisted the bride and groom up on chairs and danced around them to Hava Nagila!
Some mutual friends bought a big boot (Das Boot!) for the bride & groom.  They wanted them to open it while they were there to see their reaction.  Well, they did them one better… they filled it with beer and everyone took their turn drinking from the boot!  I have alot of pictures of the different people drinking from the boot, but I figured the most important ones to show were the bride & groom.
Some fun dancing shots…
(Sorry, Shelly!)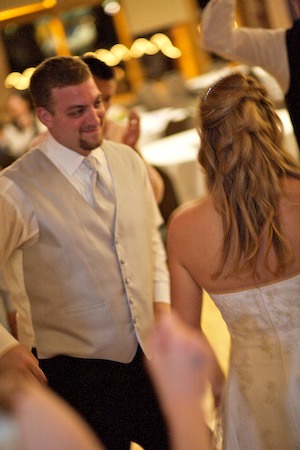 The bouquet toss
The garter toss 😉
Taking a break to "decorate" their car (that's my husband on the left)
Dancing to "Sweet Caroline"
It was such a wonderful night for everyone, especially Aaron & Tanya.  Congratulations to the newlyweds!!!