These two are our really good friends from college. They were dating when I first met my husband and are just now getting married. Meanwhile, my husband and I got married and had 2 kids! Well, I must say that they had a good reason for waiting. Adam knew he wanted to be a doctor, and as some of you may know, medical school is very demanding and time consuming. They both wanted to make sure that he was through the worst part of his medical school before they planned their wedding. It felt really surreal to be celebrating their wedding, since we have all been waiting so long. They were married in Brit's hometown of Redwood Falls, with the reception at Jackpot Junction Casino in neighboring Morton. Even if I didn't know them well, I had a blast being their photographer. And, I got some really great shots to show it! 🙂
Their first meeting
I loved her flowers!
That's my boy 😉 I think I forgot to mention that we were honored to have Nicholas as the ring bearer for their wedding!
And, my other boy!
Ah, what the heck. I'll post one more. 🙂
The groomsmen trying to teach Nicholas how to play hacky sack 🙂
The very adorable, Sophie, having a little snack before getting dressed for the wedding.
And still adorable, even though she is NOT happy about putting on that dress. 🙂
Here they come down the aisle… slowly but surely. In rehearsal, I tried to get him to pull it down while looking forward, not going backwards, and that seemed to work really well. He forgot and pulled it down backwards instead. For a 3-year-old, going backwards is hard enough. Try pulling a wagon along with it! Needless to say, he went very slowly down the aisle.
So, I don't know if this was a coincidence or a small town thing, but the vocalist (who was beautiful by the way) was the bartender at the reception!
I picked this picture because I loved the fact that my camera picked up the falling champagne so clearly!
This looks like it would be really great, but don't get your hopes up. The cork just popped a little, right back into his hand. It was so anti-climactic!
Cute photo of the bride and her brother.
I've been meaning to try this shot for some time now. Here it is!
A moment caught during their "Love Story" read by the DJ.
Yup, he got frosting on her nose. 🙂
I think this was the best photo of all of the college buddies…. except my husband, who was upstairs putting our kids to bed. Sorry, Mikey!
The neatest thing about their reception was that they had Rock Band set up for people who weren't into dancing. It was going strong all night!!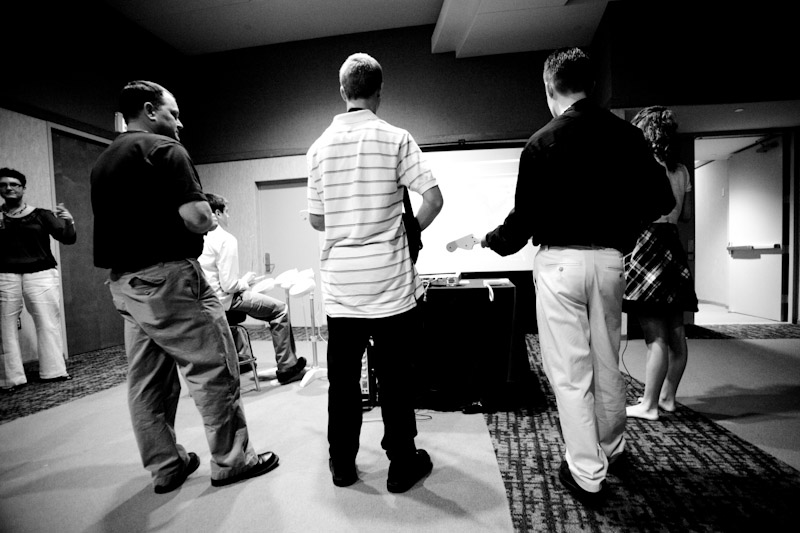 I love this shot. I actually accidentally got in the way of the projection screen, but I still got the shot, even if I messed their song up a little bit… whoops!
Conga!!!
Limbo!!!
Y-M-C-A!!!
"Touchin' me, touchin' yoooooooooouuuu."
The "2nd" to last dance. For those of you Bennies & Johnnies out there, you know what the last dance was, and I obviously couldn't post photos from that dance. 😉 Brit & Adam had to leave from Morton around 3:00 AM to catch their flight in the cities for a Mexican Riveria cruise! I hope you two are having a blast and getting some much deserved and needed rest!! Congrats!!!