Allison first inquired with me at the end of November of this year!  I was a little surprised to hear that she was only getting married in just over a month when she was starting to look for photographers.  Granted, she was just engaged this summer and was getting married during a non-peak month, so I guess it's understandable.  Anyway, Allison & Dana's wedding was simply beautiful last Saturday.  They were married at Good Shepherd Lutheran Church in Inver Grove Heights with a reception at the Embassy Suites in Bloomington.  Dana is in the Marines, so he returned just a few days before his wedding!  Allison thankfully had alot of help from her friends to plan the wedding.  Enjoy the sampling of pictures from their day!
There was a 2nd mirror on the mirror in the bride's room that was magnified.  I thought it made for a cool effect 🙂
Allison has a dramatic personality, so I felt some more dramatic pictures would suite her.  I think they did 🙂
Ah, that's a nice one!
Gorgeous flowers… I loved them!
Dana & his 3-year-old daughter, Mariah.  I usually don't post formal pictures, but I thought this one was too cute to pass up.
Allison nervously watching her guests arrive.
Love this picture!
Allison & Dana choose not to see each other before the wedding.  This was Dana's reaction to seeing Allison for the first time.  I love these shots!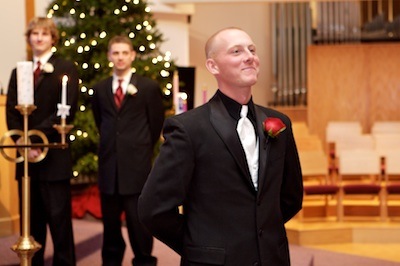 As you can see, I had fun shooting pictures of the beautiful church & ceremony. 🙂

I got some fun pictures of the girls playing. The other flower girl is the bride's sister, so technically, these girls are aunt & niece! (well, step-aunt & niece)
They were throwing the petals up into the vents.
This little guy was breaking in the dance floor prior to the dance starting.
Ok… I think these are some of my best bouquet & garter toss shots. Well, at least I think I caught them at the right time.
Thanks, Allison & Dana for making me a part of your day!