What a wedding! It was a long day with Amanda & Erik, but boy was it fun. Every aspect was planned out very thoroughly and details were put together very well.  Their ceremony was held at the Guardian Angels Catholic in downtown Chaska and their reception was held at the Oak Ridge Conference Center.  I don't usually head out that direction, so I'm not very familiar with the area.  Downtown Chaska, the church, & the conference center were all gorgeous!  Me and my 2nd photographer were so blessed to have such good areas to photograph!  I almost filled up all of my memory cards, for a whopping 2300 pictures!!!  The pictures below are just a taste of the great images I captured from Amanda & Eric's wedding.  I can't wait to go through the rest of them!
Ok, I'll admit… I set this shot up, which I don't typically do.  Amanda found her shoes, made the necklace, and bought this box separate from everything, because she knew that I would have fun photographing it.  By, was she right!
Amanda used to be a professional swing dancer, so these "bloomers" had a special meaning for her.
This was a sequence shot of Amanda's reaction when she saw Eric for the first time.  I love it!
Having some fun with the cathedral-length veil. 🙂
It was windy down the alley!
They shared cards with each other prior to the ceremony.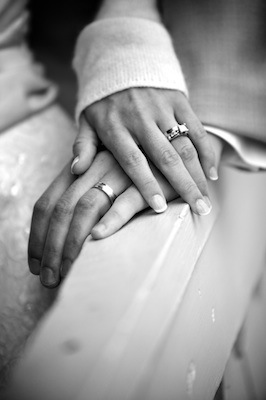 Amanda and Eric are one of those couples who photograph really naturally, or at least work well with my style of photography.  They just did this while waiting for me to get ready to shoot.  Little did they know, I was already ready 🙂
Her something blue… 🙂
Queen of Cakes put this cake together.  Can you believe it's a red velvet cake?!
Their favors for the guests…
Eric hugging his dad after toasting the couple.
Both of them were emotional at different times throughout the day, so it wasn't a surprise to me when they both teared up during the slideshow Eric's uncle put together for them.  It definitely took some timing on my part (and a little luck) to catch this winner!
Their first dance…
Whew!  And, I narrowed these down from 60!  Enjoy your honeymoon in Mexico… it's finally here! 🙂