Ashlee & Ron were married on Saturday, August 4th at the Our Lady of Lourdes church in Minneapolis.  The church is actually located near St. Anthony & Main, so going to the Stone Arch Bridge for pictures was not an option, given it was shut down for all of the reporters and news vans.  But, we were able to get some fantastic shots anyway since that entire area is so scenic.  Thankfully, the rain held off for us until we were all done!
Ashlee & Ron are quite a couple.  They have been dating for 13 years (yes, 13!) and finally decided it was time they tied the knot.  He is a networking engineer, who loves to snowboard.  She is a hairstylist who sings in a band.  I absolutely loved being their photographer for their wedding day.  It is obvious to me that even after 13 years together, they act as if they are newly in love.  Here's a summary of their special day:
She was giddy when she walked down the aisle!  You would never know how nervous she was.
So, something happened during the ceremony that I had never witnessed.  It also threw me way off, since I like to know the flow of the ceremony, so I'm in position to capture the moments.  Anyway, he finished the sermon and was going to send them off, when the groom notified the priest that he forgot to do the rings and the unity candle!!!  He just forgot!

They were slightly excited that they tied the knot 😉

Greeting their guests outside the church
I think Ashlee looked so classic.  She almost looked like Audrey Hepburn!
Here are some shots of the couple.
They got a little goofy for pictures, which was fine by me!
We headed over to Nye's for a drink after pictures.  Fortunately, the rain held off until we were inside 🙂
I loved their cake topper!
Watching their slideshow
Yes, that is Alice from Alice in Wonderland.  Ashlee loves Disney movies, so she asked them if they could put on one of hers that she brought with.  It was actually really neat, especially when the cards from the movie were dancing almost in sync to the music playing off of their iPod.
They rented a photobooth for 5 hours from the Traveling Photobooth.  It was actually a really neat deal: 5 hours, unlimited film, people get a copy of their pictures and the other copy goes in a book for the couple, and then people can put a message to the couple by their picture!  It was really fun getting some pictures of people enjoying themselves with the photobooth.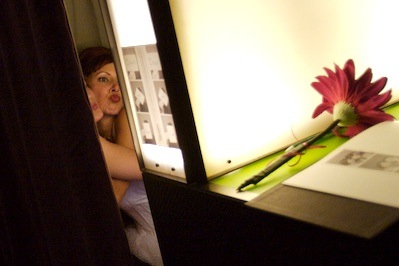 Congrats, Ashlee & Ron on a beautiful day!  I hope you have fun in Two Harbors and enjoy your trip to Italy this November!!!!