On Thursday afternoon, my little cousin's Brownie troop visited my studio for a field trip.  I must confess that I wasn't quite sure what exactly I was going to say to some 1st & 2nd grade girls about photography.  However, once I told them that they were going to be able to take some pictures (with my $4,000 camera combination) and have pictures taken of them, the girls got very excited.  I think they learned a few pointers about the world of photography as well.  I have posted below individual pictures of the brownie girls, along with some group shots.  As you can see, they are really a fun group.  It was a pleasure meeting all of them and having them in my studio for a visit!
I picked up some fun accessories at Target prior to the session.  I figured the girls would have fun with them, and I would also have some fun dress-up stuff for future sessions!  The big, white sunglasses seemed to be a hit 🙂
Now for the crazy & fun group shots!
I had a little bit of fun editing this one 🙂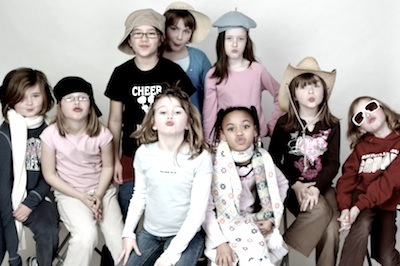 Bunny ears, everyone!
Ah… the nice, sweet, everyone hugging, picture.
Then, I had the girls "strike a pose" for a few of the shots.