I commuted down to Albert Lea for this couple's wedding this past weekend. What a fun-loving and happy couple!! These two were probably one of the happiest couples I've shot. "Bliss" was probably their most common emotion that they showed me that day. They didn't even let the sudden shift in MN weather get them down. So, it's the end of April… it should be around 60 degrees! Well, that didn't happen, "but at least it wasn't snowing!" Oh, and don't get me started on the wind! Anyway, like I said above, these two didn't let that phase them.
I shot Chad & Tina's engagement pictures at Minnehaha Falls Park last fall. I was able to capture some of that same emotion on their wedding day that I encountered for their engagement pictures. Chad & Tina were both students at Minnesota State in Mankato when they met. They were engaged the winter before they graduated, and now they are married! Enjoy the blog sample from their day 🙂
Chad's reaction to seeing Tina for the first time
Isn't this portrait great?! The light was coming in just right.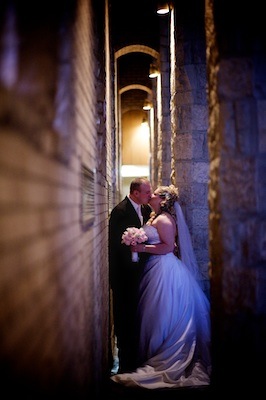 Their card box… I love all of the creative ideas I learn from different weddings.
I thought this was a cute thing to happen during the processional. 🙂
Receiving line after the ceremoy…
Their reception was held at the Elk's Club in Albert Lea.
Congrats, Chad & Tina!! Hope you have a great honeymoon in Miami!