I was in Winona all day on Saturday for Ellen & David's wedding. In all honesty, I wasn't looking forward to spending 4 hours in the car, but Ellen & David & their friends & families made the day seem shorter! I thoroughly enjoyed their company and thought their day was beautifully done. Ellen and I know each other through college. She is a year younger than I am, however we had a chance to reconnect on our college's alumni networking site when she happened to notice that I was doing photography. And, here I am blogging her wedding day!
The story of Ellen & David is truly unique. They met back in February when she was recruiting for her college in David's territory. David is the head woman's basketball coach at one of the schools she was recruiting from. Apparently, from what I heard, the girls on his team had something to do with organizing getting them together. Anyway, boy meets girl in February; boy starts dating girl; boy proposes to girl in April; boy marries girl in October. And, for having a wedding with 400 guests, Ellen did a beautiful job planning a wedding in 6 months. Take a look below for yourself!
She was so excited to get on her dress!
Ellen looked absolutely stunning. She did a great job of picking a dress that suited her perfectly.
I almost started to cry when they first saw each other. They both were crying — not teary-eyed… crying.
Ellen was about the put David's ring on the wrong hand. It was definitely a comical moment during the ceremony.
We went over to a park that was on the way to the reception for some more fun pictures outside.
I was taking a picture of the girls and the guys were hanging out just like this. I thought it turned out to be a neat picture.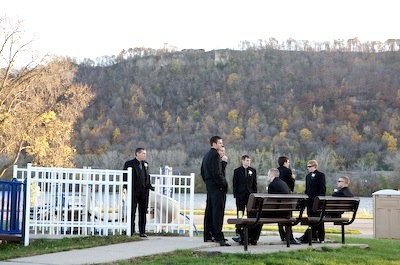 Weeeeeeeee! We are on the merry go round!
Like I said above, they had 400 guests packed into the ballroom at the Riverport Inn & Suites!
One of David's sisters had a couple of pictures of David when he was a kid. I never saw them, but I believe it involved goggles and swim trunks. 🙂
Ellen & David had individual cakes at each table, each different flavors. Then, they had the wedding party go to their assigned tables to serve the first piece.
Laughing at a part of their slideshow put together by David's sister Jennifer.
The couple's first dance as husband & wife.
These people were ready to party! These shots were all captured during the first two songs!!
Thanks to Ellen, David, & their guests for making this a day to remember!