It was a cold one on Friday night, but that sure didn't impact the wedding day of Erin & Cecilio.  They tied the knot at Our Lade of Guadalupe in St. Paul.  Being used to driving all around the Twin City Area for weddings, it was nice to have one close to home!  The church is literally 1 mile away from my parent's house, which obviously made for an easy commute.  They originally met at a mutual friend's birthday party.  The friend who introduced them was one of Erin's bridesmaids.  Last August, Cecilio popped the question to Erin when she came from a really bad day at work.  He definitely turned her day around!  Now it was time to make it official.  Erin & Cecilio really are a beautiful couple, and I wish them all of the best.  Here's a peak into their day:
Erin was a very cheerful and happy bride and it showed!
She picked the perfect dress and looked gorgeous.
I love this picture!  It was such a fun moment to catch.
Their first meeting
They had me take a picture of them lighting a candle and saying a prayer.  How special and unique!
Cecilio showing his goofy side, which he kept hidden for most of the pictures. 🙂
This is Cecilio's dad asleep in the chair prior to the ceremony.  Me and one of the bridesmaids were going to find the guys and came across him in the room.  Isn't that priceless??
It's amazing the pictures you can get when no one is looking 🙂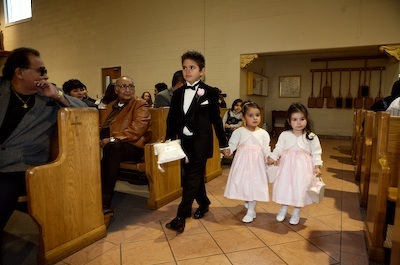 They did the Mexican tradition of the exchange of coins…
…and ropes.
I love the kid peaking around trying to get a picture.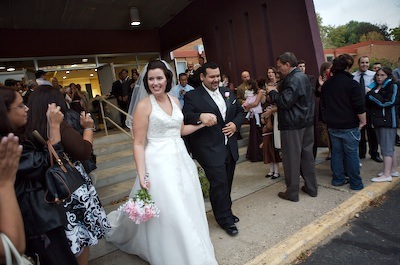 One quick kiss before heading off to the reception.  Thanks, Erin & Cecilio for letting me share in your special day!