I can't even begin to tell you the number of unique and non-traditional things Kevin & Janell did on their wedding day.  I had the pleasure of being their photographer for their May 19th wedding celebration.  The pictures will run you through most of it, but just to give you an overview: the bride is Irish and the groom is Scottish.  She wore a green dress.  He wore a kilt.  They found a way to tie in there heritage into every part of the day.  Follow along with the pictures for more details:
The boutonnieres were thistle!
She has dreadlocks in her hair, so she decided to do something really creative for her wedding day.  She told me that she has seen in magazines people with dreadlocks with their hair twisted and twirled in all of these different ways that hair wouldn't normally do without the help of wires.  So, she did her own variation with pipe cleaners!  After a few bucks on some gold and brown pipe cleaners, a green ribbon, a flower, and 15 minutes, her hair turned into this.  It was absolutely gorgeous.
Some fun shots of the couple in front of the beautiful and bright doors of their church.
Here is one of my favorite shots of the bride.  Neither one of them liked to pose for the camera, so she was frequently looking away.  Still, this shot turned out beautifully.
Her flowers had a story too, although I can't remember all of the flowers that she had in there and why she had them there.  Any florists out there would know!
Instead of having the traditional receiving line or greeting their guests after the ceremony, the couple greeted their guests as they came into the church!  Alot of the guests were extremely concerned that they were late and missed the wedding!

Before the processional, their bagpipe player came out and played.
For their processional, everyone walked down together as one large group.  Leading the pack was a woman, selected by Janell & Kevin, who "waved" around this big kite in the shape of a dove.  I'm not sure if the tradition was Episcopalian or another Irish or Scottish wedding tradition.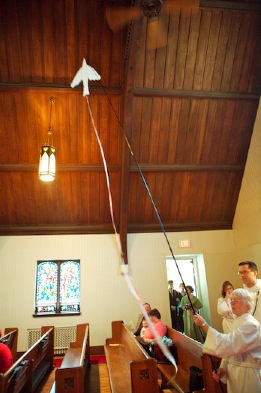 One other crazy, but fun, thing about their wedding.  They had a potluck reception!  Each guest was told to bring something to share instead of gifts for the bride & groom.
Again, following along with the Irish traditions of the day 😉
The groom reacting to a slideshow picture that their parents put together.
Congrats Janell & Kevin!!  Your wedding was truly one-of-a kind!