Jay is a good friend of ours and was actually the best man in our wedding!  When he told us he was getting married in Mexico, we couldn't wait to get on that plane to be there for them.  I also happened to bring my camera with, so I got the opportunity to snap some fantastic shots.  They couldn't have asked for a better night for their wedding.  It was very hot during the day, but as the sun started to go down, the weather cooled down a bit.  After the ceremony, we went to one of the resort's restaurants and then off to a private dance party with a DJ right off the beach.  There was a total of 14 family & friends who came to Mexico to attend Jay & Alyssa's wedding.  By the end of the week, we were all great friends!  Here are my favorites from their day!
The resort didn't serve Corona as their beer, but it's Alyssa's favorite type of beer.  In fact, she almost considered not having the wedding at this particular resort for that very reason!  Anyway, Jay arranged to have some bottles of Corona in Alyssa's room the afternoon of the wedding while she was getting ready.
We had time to snap a quick picture in the resort's lobby before taking the shuttle to where the ceremony was held.
Walking to the ceremony…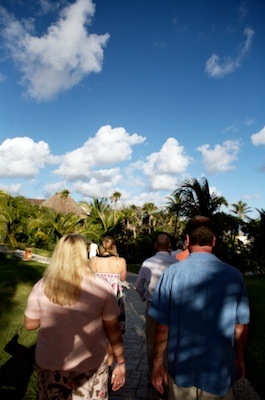 Jay waiting for his bride
Alyssa got a little emotional during her vows.
This was the group hired to play at the wedding.  They provided some beautiful music for the small cocktail hour after the ceremony.
That's my husband "cheesing" it up in the lower left-hand corner. 🙂
Ok, so here are just a few pictures of them on the beach.  After the formal pictures, we took the long route back to the main bar where we met up with everyone else.
At closer look, this picture is not tack sharp, but I don't care.  We were all riding on the shuttle and I was holding the camera way outside of the shuttle.  Besides, the sky looks awesome!
Alyssa's reaction to one of the toasts.
We got an excellent deal on some Cuban cigars while on the beach.  Most everyone (myself included!) enjoyed at least some of the cigars.  I must confess that it was my very first experience with a cigar.  🙂
Jay & his sister April
Ok, so I posted alot of pictures.  Well, can you blame me?!  It's not like I go to Mexico every weekend to shoot a wedding 🙂