Jennifer & Adam were married on Friday, August 24th at the Grand Banquet Hall in Stillwater. It has been a long time since I have been in Stillwater, so it was a pleasure hopping around town in a trolley to take pictures! And, it didn't hurt that the weather was absolutely beautiful. We started out the day at the historic Lowell Inn. And get this… just because they are considered "historic" they don't have to have an elevator in their hotel! They had to climb up 4 flights of stairs to bring everything to the room! Jennifer & Adam were such a fun & laid-back couple throughout their whole day, so it's not hard to imagine how easy it was to photograph them, their wedding party, and their families. Follow along with the pictures below for the story of their day:
While we were waiting for the trolley, I snagged this shot of Jennifer looking out the window.
Here comes the trolley!
One of our stops was at a park called Pioneer Park.  It had a fantastic view of the St. Croix.
The girls
Here are some more individual shots of Jennifer.
I kid you not… she was waiting there for a picture and the wind caught her veil just right.  I swear this shot wasn't posed!
Some shots of the couple…
Look at that train!  She lugged that thing around on and off the trolley and it still looked amazing when she went down the aisle.
I love this picture of them.  Doesn't this look like something straight out of a magazine???
Now, we head to the Grand Banquet Hall for the wedding.
Time to walk down the aisle!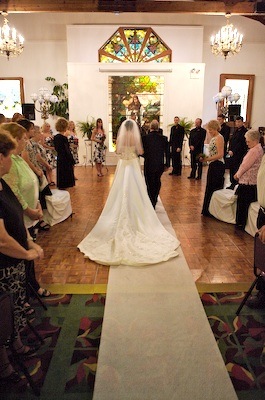 Time for that train to come up!  It's party time 🙂
Thought I would get a picture of the bride since the lighting was great and she's not going anywhere fast. 😉
A toast to the newlyweds!
They had a really neat set-up for dinner & dessert.  They had an appetizer buffet consisting of fruit & cheese, chicken satays, postickers, artichoke dip, and more…
…while the dessert table had lots of different kinds of cheesecake.
This was really romantic of the groom.  He sent these flowers to the bride on Friday morning with this note.  If you can't read it, it says, "I can't wait to spend the rest of my life with you.  Love Always, Adam"  How sweet!!!
The first dance.
The DJ did a fun game for both the bride & groom.  The bride had to feel 5 different men's "behinds" and had to pick her husband's behind based on what she felt.  The groom had to do the same thing, except feel some leg. 🙂  Surprisingly, neither one picked their spouse, but from what the DJ says, it's more common than not to get it wrong.
"I knew the bride when she used to rock 'n' roll!"
Congrats, Jennifer & Adam!  I know you will have a blast in Jamaica in January!!!