These guys couldn't have asked for better weather! Well, maybe a little more cloud cover, but the day was absolutely gorgeous. The wedding & reception took place at the Minnesota Landscape Arboretum. This location had several special meanings for them. Since Dominic lives close to the Arboretum, they went on picnics and walks here frequently. Then, during one picnic last summer, Josh proposed! We also did their engagement pictures here as well. So, it was only appropriate to exchange their vows here! Josh & Dominic are really a couple in love, and it shows. They met just over a year ago and got engaged after 3 or 4 months. They really were meant to find each other and share the rest of their lives together. I wish them the best! Here is a sneak peek into their day.
The day started out with Josh seeing Dominic for the first time.
They really wanted alot of the blooming flowers and gardens in their pictures, which wasn't too difficult since they were everywhere there!
There were these really cool reflection "balls" under a tree. I thought it would make for an interesting image 🙂 Too bad there wasn't a way I could be out of the shot!
Dominic having a private moment with her dad before the activities of the day began.
Walking to the ceremony…
Parents waiting for people to arrive at the ceremony
There are several different gardens where people can choose to get married at the arboretum. They chose this one, which had a reflection pool.
It was a very windy day, so Dominic had some troubles with her veil. During Josh's vows to her, her veil blew straight up in the air!
We stopped off at the fountain before going into the reception for some fun shots!
The original plan was to have Dominic stand in the water with her dress hiked up (gulp!), but the water was too deep… so, we just pretended 🙂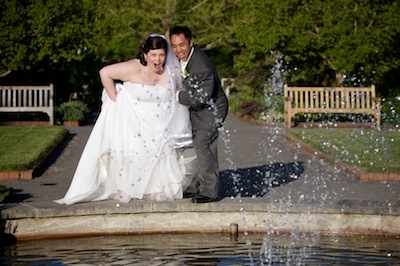 They were the first wedding I attended that had an Italian Soda Bar! It was such a good idea that was vastly popular with all of the guests, especially those were were sitting in the sun during the wedding.
Another first for me was the "Loved" Bingo game. Apparently, this is a tradition for Josh's family at Christmas. They had Bingo cards for everyone with different places and things that were special to the couple. Here is Josh calling out a special place…
….and here is Dominic handing out the prize!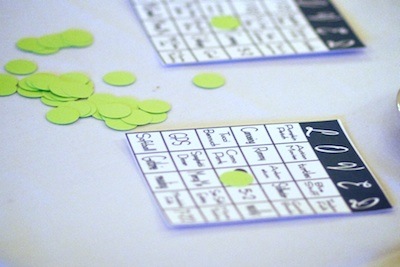 Dominic thought a particular picture of Josh was especially funny during the slideshow the Maid of Honor put together for them.
Cutting the "cupcake"… And, I found something out at this wedding I never knew. The reason why the bride & groom cut the cake is that it signifies their first task they complete together as husband & wife!
Congrats, you two! Enjoy your honeymoon in gorgeous Bluefin Bay!