Wow!  What a day for Kari & Kevin.  Just to give you an idea of how "fun-filled" their wedding was, I practically filled up all 4 of my 8 gigabite memory cards totaling just over 2,200 pictures!  There was always something happening, which I love since that means lots of photo opportunities 🙂  When I first met this couple this past winter, we realized that we lived only a couple of miles away!  They definitely have good taste in choosing a place to live.
Ever since Kari & Kevin met 6 years ago at Famous Daves (where they both happened to be working), they have come together as a couple, turned their friends into mutual friends, and have showed everyone they belong together.  Kari was working as a waitress/bartender for 10 years, however she recently graduated with a Psychology degree and now works in Eagan.  Kevin is extremely busy as a techology sales consultant, but likes to golf whenever he can find the time.  They both enjoy spending time with the friends, and it was definitely evident that carried over into their wedding day.  Take a peak below into their day:
The ceremony was held at Bethel Lutheran Church in Hudson, Wisconsin.
Kari was absolutely stunning.  I loved her necklace!
The bridesmaids excitingly watching people arrive for the ceremony.
Kevin didn't see Kari until she walked down that aisle! 🙂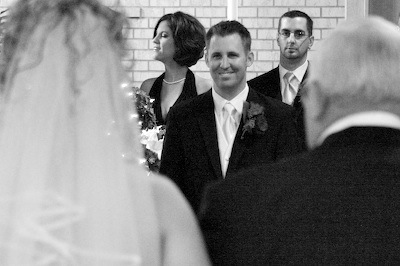 Something funny happened during the exchange of the rings, but I didn't quite catch what it was. 🙂
For those of you who remember Saturday's weather, it was not at all like October weather.  You sure can't tell from this picture!
I'm not usually one to take this "type" of picture.  It's too cliche for me, however since the streets were lined with pretty leaves and we had some time, I took it.
A toast before…
Their limo!
We went to Como Park to take some pictures prior to their reception.  We were the 3rd or 4th wedding to arrive!
Kari & her bridesmaids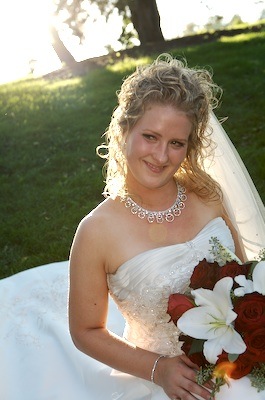 I don't see too many "cascade" bouquets anymore, but this one was beautiful!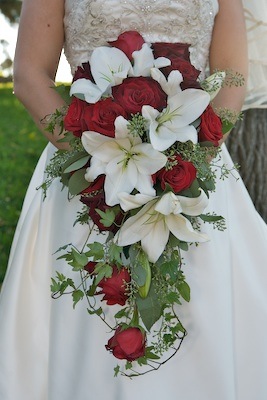 For a couple who apparently doesn't take "good" pictures, they ended up with some GREAT pictures!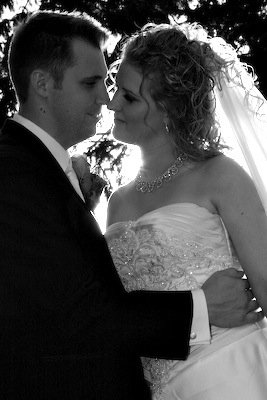 I have to give thanks for the idea of this picture to Kristi, the groom's sister.  She manages a photography studio in AZ, but she is also an aspiring wedding photographer!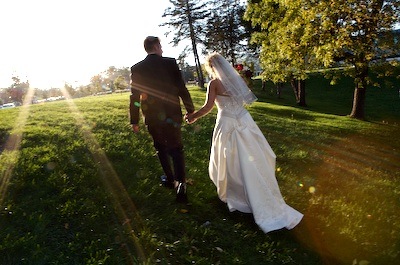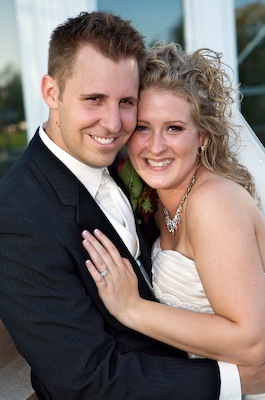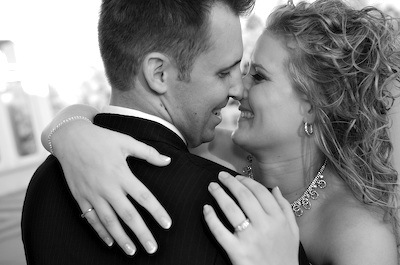 After pictures at the conservatory, it was off to the nice, air-conditioned, Majors in Roseville.
I loved the simplicity of their centerpieces.  The groom's mom made the vases in the middle.
LOVED the cake topper… I think it fit their personalities very well.
This picture is a perfect example of how digital photography has impacted the wedding industry. Everyone has a camera these days!
I love it when the toasts/speeches are fun enough to get fun reactions from the bride & groom.
This is a big reason why I love my job, to catch moments like this.  This picture is one-of-a-kind.  I don't think I have ever taken another one like it.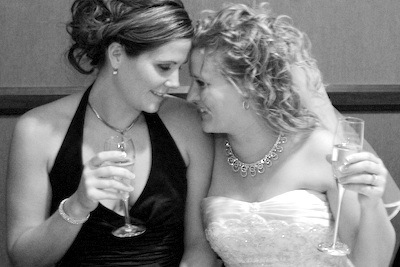 This was the groom's gift from the bride.  I don't think too much explanation is necessary 🙂
The first dance
Mother, son dance
Father, daughter dance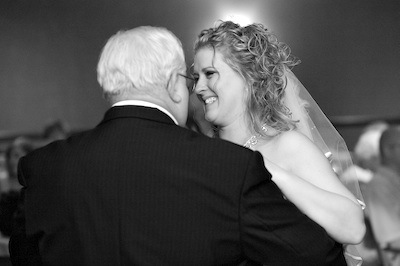 Another great shot during one of the dances!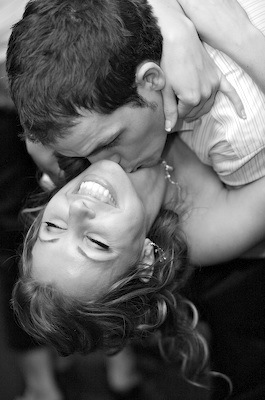 Note to all future grooms:  You need to really throw the garter.  It doesn't go very far on its own 🙂
Kari with her girls 🙂
Thanks for the wonderful and eventful day! I had a blast!!!