Katy & Carlos sure had a fun wedding day planned.  They started their day with a wedding at the Peace Gardens at the Lyndale Rose Gardens.  It was a beautiful but hot day when you were in the sun.  They weren't complaining, because they knew it could have been humid or worse, raining!  The sun sure made it alot trickier to take pictures, but we managed to find some good shade.  Then, we headed over to the Profile Event Center in Minneapolis for the conclusion of their celebration.  I last met up with Katy & Carlos back in June for their engagement session at Minnehaha Falls.  I knew then that it was going to be a blast to be a part of their wedding day.  Here are the highlights from their day!
Some pictures of Katy
This little guy wasn't the ring bearer, but he was sure dressed ready to be one!  He was so adorable!
Carlos being  silly with the umbrella 🙂
They didn't see each other before the ceremony, which proved tricky when we were taking pictures.  We had to send Katy to hide behind a tree!
Katy & Carlos were the ones to distribute communion.
Here are some fun pictures of the couple.
It a tradition of theirs to take the picture with Carlos on Katy's back.  I think it's an on-going joke, since Katy is slightly taller than Carlos 🙂
They were just sitting like this!  Well, actually, I put here there with the dress, but then she put her arm back and held the umbrella like that.  Then, Carlos stood right there.  It was perfect!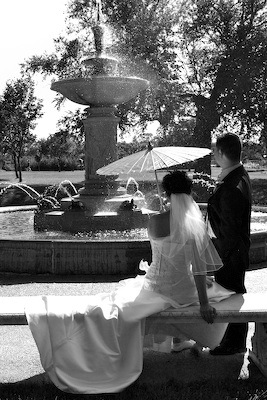 Carlos is originally from Mexico and Katy was adopted from Korea.  So, they had both Mexican food and Koren food catered for their guests.
This is the traditional Korean wedding gown that was sent from her foster mom back in Korean.  She put this on later in the night.
My favorite gater toss  shot, by FAR!
The couple and the guests sure loved to dance, especially Carlos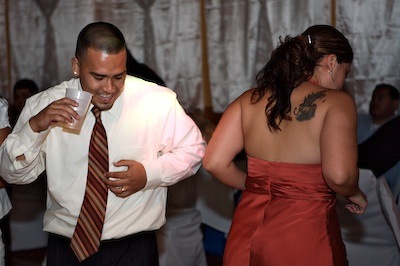 Congrats, Katy & Carlos!!!   Thanks for the wonderful day!