Kelly & Alan were married at the Afton Alps Resort this past Saturday, August 11th. All I have to say is thank goodness they didn't have an outdoor wedding! I think it definitely felt like the most humid day we have had this summer. We managed to stay outside for only 15 minutes while we snagged a few shots. This was another couple who had been together for a long time. They even went to prom together! During the Maid of Honor's speech, she brought that up and also mentioned that Kelly's mom made the observation that she looked so happy with him. She also mentioned that they would be married some day! Wow… I guess it's amazing the intuition a mother has.
Here are some of the fun pictures from their wedding day.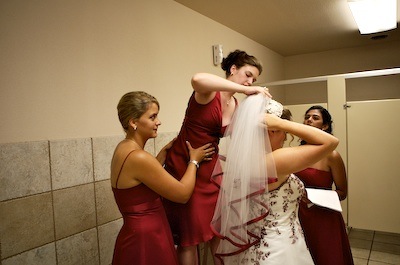 She said that she picked the dress based on the veil 🙂
Loved the red shoes!

Her head piece was her mother's when she got married…
…and the beads on the ribbon were from her grandmother's dress!!
The guys were really good sports for the pictures 🙂
Alan, the groom.
Waiting on the walkie talkie for confirmation on when to head upstairs for the ceremony
I love it when the groom doesn't see his bride until she walks down that aisle.
The bride's brother helped officiate the ceremony!
The celebration afterwards
Some pictures of the newlyweds!
Here were some of the shots we got outside in the scorching weather.  I loved the pictures with the sun.
These guys decided to goof off while we were taking pictures.  They didn't realize, however, how fast I am with the camera. 😉
Another fun shot with the sun of the reception party
Catering by Divine Swine… no pig on a spit this time!
The first dance as husband and wife.  They danced to a song that Alan wrote for Kelly when they were in college!
Then, this talented couple sang for the bridal party as they danced.
Fun dancing shots!
I love this one!!!  These were the shadows created on the wall from the lighting from the ski lights on the hill.
Garter toss… um, maybe more like a garter sling-shot.
Bouquet toss
Congratulations, Kelly & Alan!  I hope you enjoy your 3 week road trip to your new home in California!