Luke & Katy were blessed with outstanding weather for their August wedding.  When planning one's wedding for August, wouldn't you dream of having mid-70's with a light breeze out of the west??  😉  Anyway, they were very fortunate to have such great weather.  Luke & Katy originally met in college when they were freshmen.  After graduation, Katy went off to graduate school in Seattle, so their wedding plans needed to be put on hold until she was done.  Well, Katy graduated this past May and now they got married this past weekend!  It was a beautiful day with tons of support and love from their family & friends.  I had a great time with Luke & Katy and their guests.  Hope you two have a great honeymoon weekend!!
Their wedding was held at the beautiful Panola Valley Gardens in Lindstrom.
A funny moment while they were getting the dress on.  She opted to not wear the bra, a last-minute decision that alot of brides make on their wedding day surprisingly!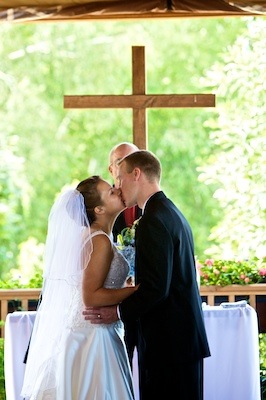 During formal pictures, this little guy wanted to take a dip into the stream.  I thought that this moment was just too adorable to pass up!!
After the pictures at the garden, the bridal party took a trolley into downtown Stillwater for pictures.  We must have run into 4 or 5 different wedding parties just at the few places we went!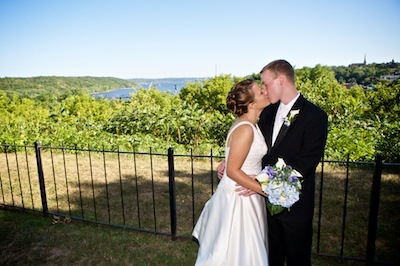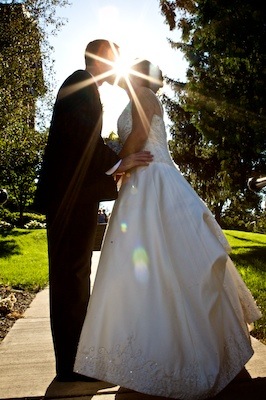 Their reception was held at the Historic Washington County Courthouse in Stillwater.  I've actually heard alot about this site, so I was glad to be able to shoot here!
Instead of table numbers, they had pictures & descriptions of special places in Luke & Katy's life.
They hired a barber shop quartet for their cocktail hour and for the beginning of dinner.  They were fantastic!
Would you believe me if I told you this was all from the wedding party dance???   These people were ready to party!