After over a week of straight blogging, I needed a break 🙂  Sorry, Melissa & Chris if it took me a little longer than possible to get these up.  Trust me, though… it's worth the wait!
The last time I met up with Melissa & Chris was when I took their engagement pictures over the summer at Minnehaha Falls.  It's so fun to see a couple's transformation on their wedding day.  Melissa looked stunning in her dress and Chris looked handsome in his tux.  They originally met through an online dating service 4 years ago.  Now, Melissa is a dental assistant & Chris just passed the bar exam!  Unfortunately, his first job took him up north, so Melissa is in the process of trying to find a job there.  Until she finds one, she will be living in the cities while Chris is working up north.  They are certainly being very good about the situation!  I
At their church, St. Patrick's in IGH, they had a wall in their bridal room with pictures of past brides.  I think some of the pictures had to be at least 50 years old!
Chris is a huge Kansas City Chiefs fan, so Melissa had a little surprise for him 😉
This is a first for me.  The bridesmaids were playing "Go Fish" before the ceremony to pass the time.  Brilliant!!
The reason I posted this picture is to tell you what happened as the priest got to the alter.  I obviously wasn't looking that way, because the groom was heading down the aisle with his parents.  Anyway, a little white "visitor" was waiting for the priest on the alter steps.  It was a mouse!!  It definitely made for a good story for their ceremony 🙂
Melissa & Chris laughing at what the priest was saying during the sermon.
We got in a few pictures in the church before heading over to their reception at Central Park in Woodbury.
Ok, for those of you brides still looking for a cake for your wedding, you have to consider Key's Bakery.  I've tried my share of cakes from different weddings, and this one by far, excuse my pun, "takes the cake"!!!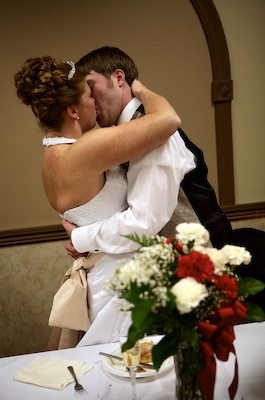 I love people's reactions to the toasts.
Guests blew bubbles during their first dance!
Here are some fun dancing shots!
Love that electric slide!
Chris is about to get his surprise!!! 😉
Thanks, Melissa & Chris!  I hope you enjoyed your honeymoon in Red Wing!!