On Sunday I revisited Minnehaha Park to shoot Melissa & Chris' engagement pictures. They will be getting married on November 3rd of this year. Wow, it was a hot one! We were all very excited when it was our chance to wade in the creek for some pictures. In fact, they were the first shots of the day. It's interesting doing two separate shoots in one weekend at the same location. Things tend to start to run together, so I needed to utilize the same locations while still making the pictures different and unique. I think it worked out well! You'll have to be the judge, since the two posts are right next to one another!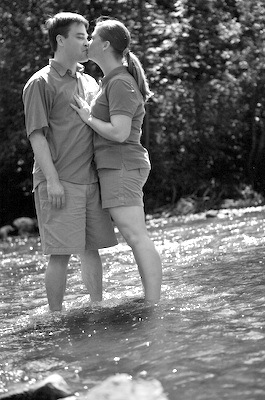 They braved the creek and stood out there on the rocks! It's definitely a cool picture 🙂
There was a quaint little house called the John H. Stevens House where they let us take pictures on the front porch. To be honest with you, I didn't have the slightest clue about this house, so in writing this post, I decided to do a little bit of research. What I found was fascinating! Here's an excerpt from the website:
"The John H. Stevens House, built in 1849 near St. Anthony Falls, has the distinction of being the first wood frame dwelling built west of the Mississippi. It was in this house that the name "Minneapolis" was suggested and the government structure for Hennepin County established.
Completed in 1850 beside the Falls of St. Anthony, the Stevens House served as the civic and social center for the new settlement and became the site of many historic events. The house was the first permanent settlers home built west of the Mississippi River."
Wow!!! We had no idea! 🙂