Peter & Tanya were married this past Saturday in Chisago City, MN. What an absolutely gorgeous day! In the midst of a rainy start to summer, they were blessed with awesome weather! Tanya especially loved that we were able to take almost all of the pictures outside. Peter & Tanya met 2 years ago at work. They both originally wanted to keep their noses to the grind and just work during the day, not too much socializing. Well, their interest in each other couldn't stay hidden for long! After a few weeks of spending almost every day together, both of them were bursting at the seams to tell each other that they loved one another. Thank goodness, Pete was the one who said it first, and Tanya was quick to follow. It was a very special day beautifully put together, which was almost ruined by bad flowers! Her bouquet showed up florescent and with orange in it, not at all what she asked for! Thankfully, they kept their cool and Tanya's mom was able to go to the local florist to "fix" her bouquet. Talk about a close call! Well, everything else went off without a hitch and the rest of the day went swimmingly. Take a peek below for a sample of their day:
I believe her sister was in there "adjusting" something 🙂 Definitely, one of my funnier moments.
The fixed bouqet 😉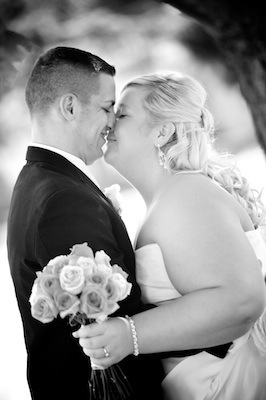 I almost missed this shot, because the pastor walked right in front of them as they were kissing! This was the best one I got!
Congrats, Pete & Tanya! Thanks for making me a part of your day!