The most common saying for Rachel & Bryan's wedding this past Friday night was, "Well, at least it isn't raining!"  The reason for this was due to the uncommon cold weather we had for their wedding.  The poor bridesmaids were freezing in their strapless, tea-length dresses.  At least Rachel had some layers underneath her dress!  The guys weren't complaining, of course.  This was perfect weather for tuxedos!
Aside from the frigid weather, Rachel & Bryan were blessed with a beautiful wedding day.  We started out at the Embassy Suites in Bloomington and then headed over to Centennial Lakes Park in Edina.  I haven't been to that park in a while and forgot how beautiful it is!  Finally, we ended the evening at the Carlson Conservatory in Minnetonka.  Rachel & Bryan originally met in college and have been in love ever since.  You could definitely feel their love for each other throughout the day.  Enjoy going through their day below!
I loved her bridal bouquet!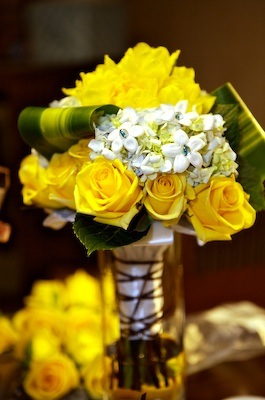 Rachel needed to get in some last minute tweezing.
Their first meeting in the atrium of the Embassy Suites.
We took a moment to take some pictures in the atrium by the fountain.
Then, it was time to take the shuttle over to Centennial Lakes for more pictures & the ceremony.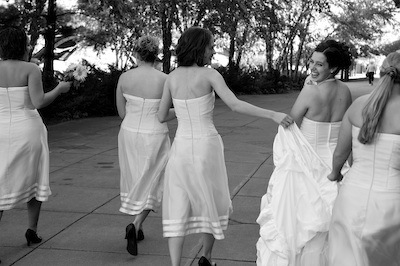 I love this unconventional bridal party shot.  The two bridges and the sun where it was all came together for this fun shot.
See Bryan's hand on Rachel's back??  That's how cold it was!!
Here is my colleague Marisa in action.  I don't even think she realized that I took this.
Rachel got a little emotional during her vows.
Their walk after the wedding up to their fancy Bently!
Everyone else rode a huge double-decker bus over to the Carlson Conservatory!  Obviously, the bridesmaids couldn't wait to get on their coats! 🙂
Instead of people clinking glasses for them to kiss, they had people stand up and sing a song with the word "love" in it.  Every time the word "love" was sang, they had to kiss!
Congrats, Rachel & Bryan on your wonderful & beautiful wedding day!