It was a beautiful day to get married in Blaine, MN.  Well, at least it started that way!  All throughout the day, there were very scattered and short showers.  The story of the day was it was start to rain and then before it stopped raining, the sun would come out!  It was a crazy weather day for Sean & Stephanie.  That didn't stop them from having a fantastic wedding surrounded by the closest family & friends.  They were married at the Church of St. Timothy in Blaine and had their reception at Majestic Oaks Golf Course in Ham Lake.  I last met with them around Christmas for their engagement pictures.  Maybe you'll remember the gorgeous snow engagement pictures!  We didn't get any "weather" pictures for their wedding, however, I'm so pleased with how their pictures turned out.  I think I ended up with around 900-1000 images to edit!   Sean & Stephanie have been waiting for this day for a while and now it's finally here.  They will be living out in Philadelphia, where Sean is an engineer and Stephanie is an RN.  I wish them the best of luck!  Here's a glimpse into their day… 🙂
The Stephanie & her bridesmaids were all hiding under the overhang from the rain.  I thought it made a great picture!
Sean didn't see Stephanie until she walked down the aisle…. awww! 🙂
Instead of table numbers, they had "years".  Each table had a card with a year on it and pictures of both Sean & Stephanie from that year!

Guests had to sing a song with the word "Love" in it in order to get the couple to kiss!
This little girl was too shy to sing, so she signed the song instead!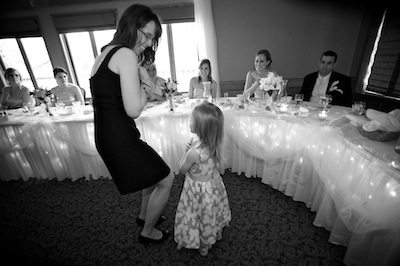 And, one last final picture to sum up the beautiful day.  Have a great honeymoon in the Poconos!