Trevor & Cortney's wedding was my very last wedding of the season for me. 🙁  I'm definitely excited for the looooooong break, but it is sad that I won't be sharing in anyone's special day until the first weekend in June of 2009!!!  Boy, did this wedding go out with a bang!
It was an interesting day for me, since my associate was there for the first half of the day without me to do getting ready pictures and formal shots with family & the bridal party.  Betsy knew Cortney through her good friend from school Kelli, who's wedding I shot (and she helped with as much as she could, since she was a personal attendent).  So, Cortney hired Betsy outside of my business and then Betsy stuck around to help me out for the rest of the day!  You can view Betsy's pictures here.  It was certainly weird not to have any formal pictures or bridal party shots 🙂  I picked up with pictures of Trevor & Cortney together.  We had a long, long time outside with the beautiful weather.  They couldn't have been more lucky with the gorgeous 50 degree day in November!!  Both the wedding and reception were at the Dellwood Hills Country Club, a gorgeous facility with excellent food and service.  I am so happy about the pictures I got at this wedding.  Enjoy!!  🙂
You know, I'm not quite sure how this picture came about.  I think we were working with her veil to try and catch it in the wind and she looked down like this on her own accord.  One of my favorite pictures of the year!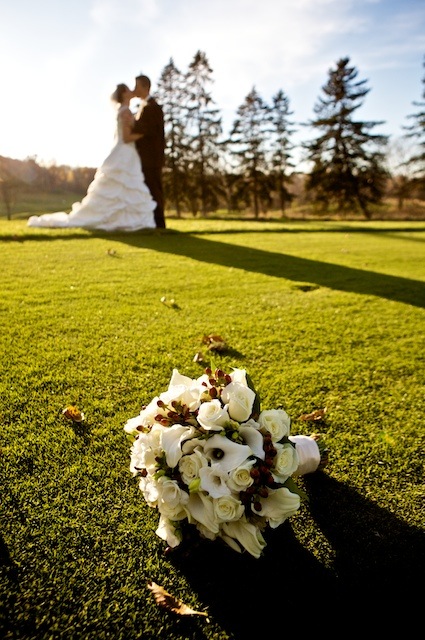 I love how surreal this picture looks!
I thought this was such a cool picture.  Someone else's flash went off as I took this picture, which gives it the off-camera flash look.  This happens from time to time, however this was just too neat to pass up!
Instead of lighting a unity candle or doing a sand ceremony, they planted a tree together and watered it during the ceremony.  The tree represents their relationship as it grows!
Their gift to their guests was a caramel apple from a nearby apple orchard.  They were fantastic!!
The Grand March celebration!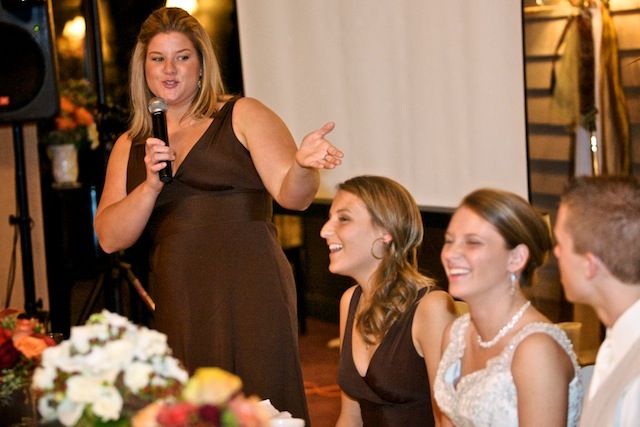 Note to all of my future brides:  Definitely consider cake smashing!  It's tons of fun, and makes for some great shots 😉
ESPECIALLY, if the cake is chocolate 🙂
Cortney changed into a different dress for the first few dances.  Her first dance with Trevor was a swing dance, so that made for some great pictures.
Sorry for the cleavage shot… it was just too awesome to pass up posting!
At Cortney's bachelorette party, all of her "girls" learned a special dance to Bootylicious by Beyonce.
Now, on to the boring, old, regular dancing shots…. 😉